The Musée de l'Ephebe of Cap d'Agde opens its doors to Propadyn the humidity stabilizer
The collaboration between Promuseum, Propagroup, Testo and the Musée de l'Ephebe of Cap D'Agde has made it possible to confirm once more the effectiveness of Propadyn in stabilizing humidity in significantly unfavourable conditions.
The Musée de l'Ephebe and its large collection of underwater archaeological finds have created significant challenges for Propadyn, the dynamic humidity stabilizer, due to the delicacy of the works and the unfavourable geographical conditions (given the proximity to the sea).
With the high technology of the display cabinets, studied and conceived by Promuseum, Propadyn is giving excellent results (the test is still underway) compared to competing products tested simultaneously under the same conditions. The significant humidity fluctuations have been practically zeroed in the display case containing Propadyn. The graph below shows the test data started on 29/10/2017 which will end in the coming days.
The results of which were previewed at the SITEM 2018 exhibition in Paris during a conference held on 25 January 2018.

To learn more about Propadyn click here.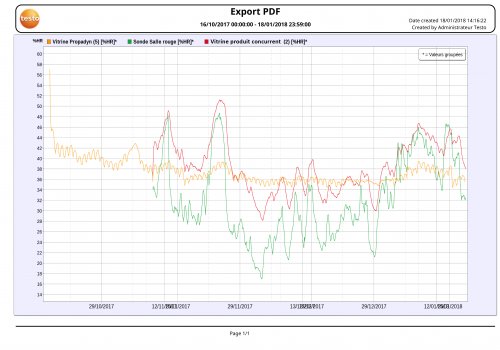 Sitem presentation